REVIVE.  ‍‍‍‍RESTORE.  ‍‍‍‍REJUVENATE.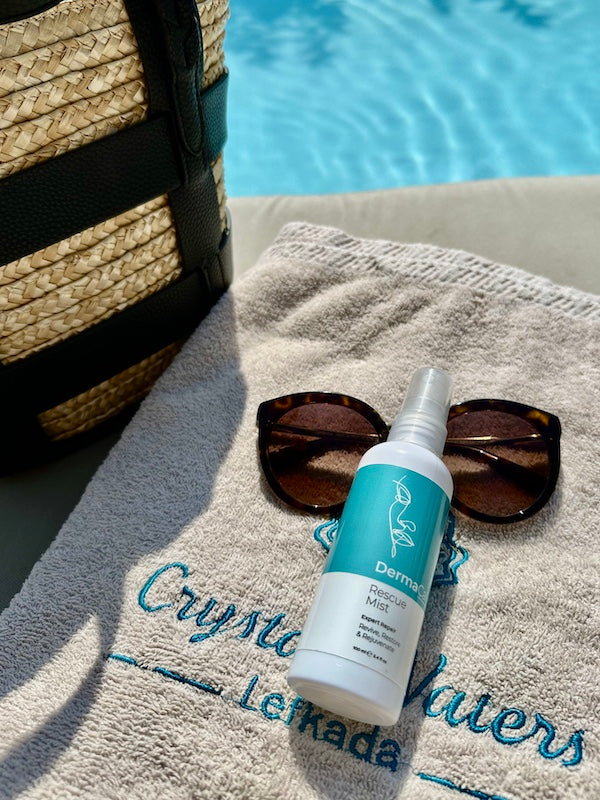 DermaCalm Rescue Mist
Soothing, purifying and repairing miracle mist that defends against daily damage, naturally transforms the health of your skin.
Perfect for sensitive skin prone to redness, irritation, inflammation and breakouts;
Rosacea
Eczema
Psoriasis
All forms of acne (incl. hormonal acne)
Applying Rescue Mist to the skin activates an immune boost that helps the skin take itself back to its natural and beautiful state.
Use as a toner to calm and prepare your skin for the next step in your skin routine. Also use on-the-go during the day and post workouts to refresh and purify.
Works through makeup.
100% natural, scientifically backed and clinically proven.
SHOP NOW
Breakouts
The active ingredient in Rescue Mist (hypochlorous acid) is produced as part of our immune system. It gently calms down the skin by controlling bacteria and sebum production.
Image: 2 weeks use
Rosacea
Rescue Mist calms down inflammation, reduces redness and irritation.
Image: 2 weeks use
Eczema
Promotes skin recovery by supporting the skin barrier and its natural healing process.
Image: 4 weeks use
"THESE PRODUCTS HAVE BEEN A GAME CHANGER"
- Jessica Abbott Cosmetics
RETAILED IN APPROVED CLINICS
Get in touch to become a stockist
FAQs
What is DermaCalm?

The star ingredient in DermaCalm (hypochlorous acid) is part of your natural immune system. It reduces redness, soothes irritation and defends against daily damage from skin's everyday stressors and environmental damage.
How does DermaCalm work?

DermaCalm is a powerful anti-inflammatory and gentle antibacterial which helps defend your skin from harmful bacteria without damaging the skin's microbiome, leaving your skin glowing and refreshed.
How do I use DermaCalm?

Use morning and evening as part of your regular skin routine. For best results, cleanse your face, dry, then spray with DermaCalm. Leave to dry completely. Then apply any other product (serums etc.) and moisturiser. 
What type of skin is DermaCalm designed for?

DermaCalm is designed for all skin types, but especially sensitive skin. It works in harmony with your skin as the active ingredient already exists as part of your immune system. Acne, rosacea, eczema, dermatitis, any skin condition associated with sensitive skin can use DermaCalm.
How natural is DermaCalm?

Our products are made with clean, non-toxic ingredients that won't harm or irritate your skin. It's free from preservatives, colours, fragrances as well as aldehydes, surfactants and parabens.
Is DermaCalm suitable for vegetarians and vegans?

Yes, it is 100% vegan and cruelty free.
How should I store DermaCalm to make it last the longest?

Please store DermaCalm in a dry, cool place, away from direct sunshine.
Who makes DermaCalm?

DermaCalm is made and manufactured by a leading group of scientists based in the UK, who specialise in healing technologies. We use the highest-grade ingredients and no expense has been spared whilst creating what we believe to be the best calming spray on the market.